Overhaul Search introduces FAA 8130-3 Airworthiness Approval Tags. Repair centers can now create and manage their FAA 8130 tags online. Never worry about loosing a tag again. All tags created on Overhaul Search are archived in our database. Once a tag is published, it can be viewed by the customer so if they loose their copy they can retrieve another copy from Overhaul Search. See how easy it is to create 8130 tags with Overhaul Search.
There are two ways to create a tag.


Go to the Tag Home Page under Work Status (Image 1)

Create the tag directly from a work order (Image 2)

Image 1 - Create a tag from the Tag Home Page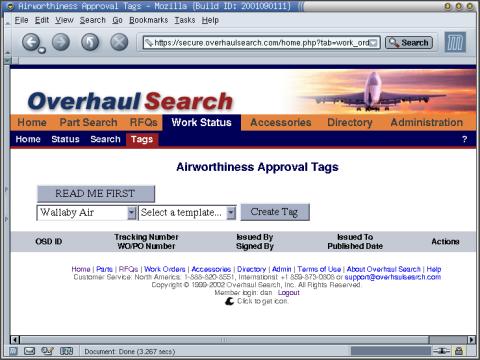 Simply select a customer and a template (if needed) and click "Create Tag".
Image 2 - Create a tag from a Work Order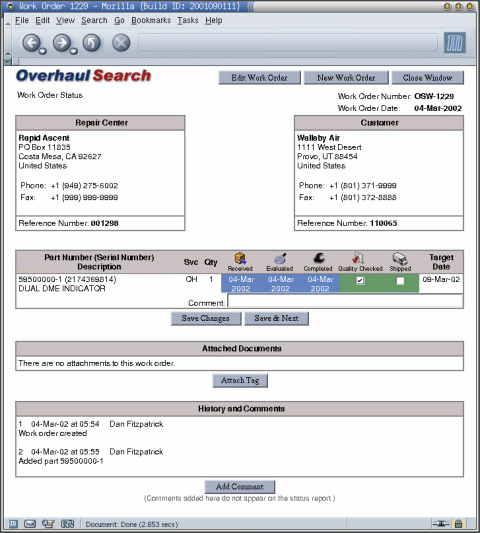 Simply click the button "Attach Tag" and the 8130-3 form (Image 3) will pop up.
Image 3 - 8130-3 Form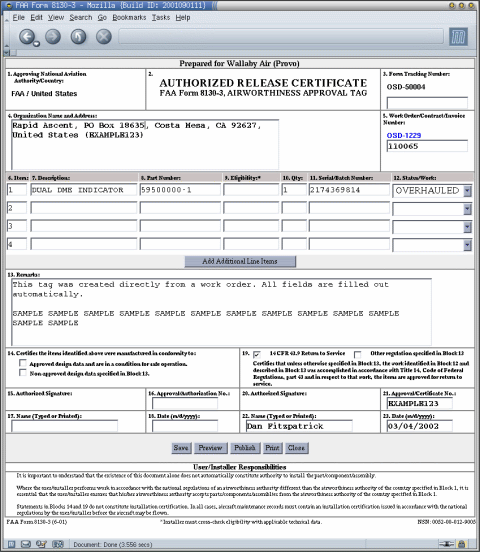 If created from a work order or a template, most of the fields will automatically be filled out.
Once the form is filled out, you can Save the form if you need to edit it again later. You can Publish the form. When you Publish the form, it becomes "Locked" and can no longer be edited. In addition, the customer can now view and print the tag. If you Print (Image 4) the form, it is Published and a print dialog will pop up for you.
Image 4 - Print the Tag