AAR Landing Gear Services specializes in the exchange and overhaul of landing gear for all commercial aircraft and, through its subsidiary AAR Tempco, all regional aircraft. We have demonstrated experience and maintain complete control over all aspects of the process. Our workforce is recruited from around the world to ensure our team is comprised of highly trained, experienced technicians.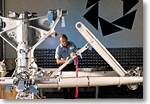 Exchange Programs
We've developed comprehensive exchange programs to meet your immediate equipment needs. Our sales department is always ready to discuss inventory and develop quotes.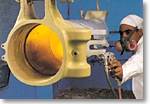 Painting
Landing gears are moved to our painting section after repairs are completed. After careful masking of chrome and other non-paintable surfaces, the gear is moved into the paint booth for spray application of appropriate primers and finishes.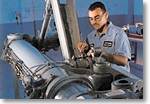 Assembly
Each catalogued component is processed to the assembly area. Stringent inspection ensures that each part meets all specifications. Any component considered beyond repair is replaced by a component from our extensive stock of standard materials.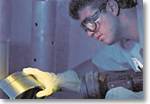 Quality Control
All facets of the overhaul and repair processes are subject to FAA and JAA quality control standards. From incoming visual and dimensional inspections to final checks when landing gear is packed for return shipment to you, our quality control department carefully monitors every step. Our computer program captures all pre- and post-rework dimensions and provides you with a complete repair history.Landing gears undergo rigorous initial inspection during disassembly. Components are identified, catalogued, and tagged. Cleaning procedures include stripping and sand blasting. After removal of dirt and corrosive elements, components are inspected and logged in our Inspection Condition Report computer system, which routes and controls all repair operations.
Call AAR Landing Services for all your landing gear repair needs.
AAR Landing Services
9371 NW 100 Street
Miami, FL 33178
Phone: +1 (305) 887-4027
Fax: +1 (305) 887-9437