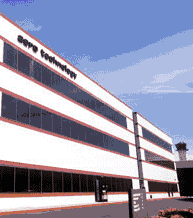 Aero Technology is a worldwide supplier of new and used avionics, instruments, accessories, and interior equipment to the commercial, military and regional aviation markets. Aero Technology is an FAA Certified Repair Station (#DQ3R458L) performing MRO services on avionics, instruments and accessory components. Foreign Governmental Airworthiness Approval Licenses are held from the European Union (JAA), China (CAAC), Indonesia (DGAC), the Philippines (ATO), Argentina (DNA), Nepal (CAA), India (DGCA) and Pakistan (CAA). Aero technology meets and exceeds the C.A.S.E. 1.A. standard. Fast turnaround times, consistent reliability and quality workmanship are a proven standard.
For almost two decades, Aero Technology has provided airframe, avionics, and interior modifications and installations. Logistical support services, inventory consignments and provisioning management have been rapidly expanding sector of the company's business services. Currently Aero Technology has maintenance service contracts with many major airlines, service providers and military contractors. Quality audit approvals have been received from Boeing, Raytheon, Lockheed, and Gulfstream. The company is actively seeking new opportunities and expanded represenation throughout the world.

Please click the web link below for more information about Aero Technology.
Aero Technology
3333 East Spring St.
Long Beach, CA-California 90806
US-United States
Phone: +1 562-595-6055
Fax: +1 562-595-8416
Email:
richard@aerotechnology.org
Web:
www.aerotechnology.org