Avcom Avionics & Instruments is an FAA, EASA, and ISO 9001 Certified Repair Station specializing in the repair, overhaul and sales of new generation avionics. Avcom has been serving the airlines of the world, helicopter operators and Business Aviation since 1987. We are conveniently located near Miami International Airport (MIA), and have become a recognized leader in superior service and technical expertise.
Avcom maintains a state-of-the-technology ATE shop that enables us to service EFIS / EICAS / FCS and accessories on the latest models of Airbus and Boeing aircraft (including 717, 757, & 767). This special test equipment also handles all three makes of TCAS processors, control units, antennas, radars (including forward looking wind shear and search and rescue), 700 and 900 Series radios, MODE S transponders and autopilots.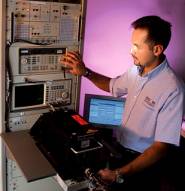 Your OEM Alternative.
Avcom is a practical alternative to the usual high costs and longer lead times of the OEMs. Avcom is proud to offer the highest level of technical service that meets and exceeds that of the OEM. Our average turn-around-time is 3 days and our prices are consistently 20% to 30% lower than the OEMs. And our exceptional customer support is just another benefit that sets us apart from the rest of the avionics pack.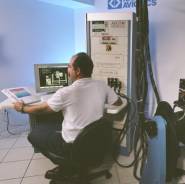 We sell peace of mind.
Wouldnt you agree that real Value is in knowing that your unit will be thoroughly bench tested and evaluated by OEM trained technicians? Using the newest ATE, in environment controlled labs, we will quickly determine the trouble and fix it. Avcom uses only genuine OEM parts and performs repairs down to the component level. This unparalleled service can save thousands of dollars each year on replacement circuit cards alone.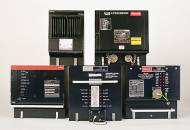 We have a Ph.D. in TCAS.
Operating in todays RVSM environment demands meeting precision standards. We believe that Avcom has serviced more TCAS components than anyone else outside of the OEMs. Our experienced technicians, many of whom are degreed Electronic Engineers, receive on-going recurrent training. Avcom will return your TCAS components after they pass thorough testing on our IRIS 2000 and MTS 2000 ATE using the latest OEM approved TPS software. Avcom also performs rigorous environmental testing prior to return-to-service.
The Answer to Your Display Problems.
Again we are offering you a choice. Avcom has installed a new IRIS 7000 ATE to support Honeywell Display Units for new generation aircraft that include B717/MD90 as well as B737NG and B777 and the Boeing 777 Flap/Slat Computer. We are committed to lower the costs to repair or overhaul your Display Units and Flap/Slat units as they come out of warranty while cutting the turn time you have experienced from the OEMs.
For Your Flight Management Needs.
Avcom expanded their already extensive ATE capabilities to again provide aircraft operators a choice with the installation of a new RADA-CATS ATE. The new capabilities are for the Smiths CDU, FMC, MCDU and EIS Display for Boeing B737 Classic and the B737NG series aircraft. Your units will undergo extensive testing, repair and returned to you at substantially reduced turn time with a tremendous cost saving over the OEM.
Not all avionics shops are created equal.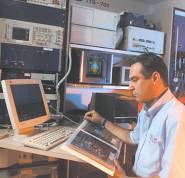 Believe it or not, there are significant differences in shops. Even between shops with the same credentials, including the OEMs, you will find a marked increase in real value when choosing Avcom Avionics. Just some of the benefits that set Avcom Avionics apart are:


Most aggressive/competitive pricing

Fast turn times guaranteed or we pay you*

Service on all three makes of TCAS (L-3,Honeywell & Collins)

Dedicated Customer Service Rep.

Dedicated parts and exchange inventory*

Dedicated (no-cost) loaner inventory*

No-fee (flat rate) exchanges*

Flat rate modifications and upgrades with Overhaul*

Warranty equivalent to OEMs

Convenient location in Miami close to MIA and FLL

Daily status reports and weekly summary on all components in the shop(if requested)

The Avcom Whatever It Takes Attitude

(*)These benefits available under signed Service Agreement.
Avcom is a proud supporting member of the Airline Avionics Institute (AAI, AMC, FSEMC); National Business Aviation Assoc. (NBAA), Aircraft Electronics Assoc. (AEA), Helicopter Assoc. Intl. (HAI), and the Florida Regional Minority Business Council.

Defense Supplier for L-3 Integrated Systems Joint Operations Group (JOG), US Special Operations Command (USSOCOM) Material Support.

Team Member of the Technical & Management Services Corp. (TAMSCO) US Flexible Acquisition & Sustainment Tool (FAST) for US Air Force Managed Weapons Systems.
Avcom Avionics and Instruments
3008 Northwest 82nd Avenue
Miami, Florida 33122
FAA CRS #VR4R606M
JAR-145 Acceptance EASA.145.4186
ISO-9001
Contact Bruce Freeman
Telephone 305.436.0300
For complete capabilities search please explore our Website at:
http://www.avcom-avionics.com